Fund Raising Events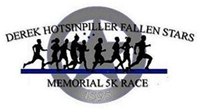 The Derek Hotsinpiller Fallen Stars Memorial 5K Race
The Derek Hotsinpiller Fallen Stars Memorial 5k was initiated by Dustin and Ashley Hotsinpiller. Derek had participated in many 5k race events with Megan, Dustin, Ashley, his Uncle Terry, Aunt Brenda and many friends.
The first race was held on June 11, 2011. The course began and ended at Wayne Jamison Field at Bridgeport High School, after winding through the neighborhood streets that Derek roamed while growing up. We had over 450 participants. Racers came from all over West Virginia and the surrounding states. Over $12,000 was raised for the Scholarship Fund.
The Eighth Annual Derek Hotsinpiller Fallen Stars Memorial 5K was held June 9, 2018. The 2018 race had over 350 participants and over $24,000 was added to the Scholarship Fund.
Local business and private donations continue to support the race and make it successful. Those donors and all race information is listed on the Bridgeport Track website.
The Ninth Annual Derek Hotsinpiller Fallen Stars Memorial 5K Race will be held June 8, 2019 at the Bridgeport City Park.
---
Bridgeport Police Department Spaghetti Dinner
In May 2018, the Bridgeport Police Department again sponsored a spaghetti dinner. The meal was cooked and served by members of the Department and their families. Over $2,800 in proceeds was donated to the scholarship fund. This brings the total money raised for this event over four years to over $16,000.
---
Rick K and the Allnighters Fund Raiser
Chief John Walker of the Bridgeport Police Department had been involved with successful fundraisers in the past with Rick K. He knew this is what he wanted to undertake to help fund the scholarship in memory of Lt. James Hotsinpiller and DUSM Derek Hotsinpiller. After talking with Rick, Chief Walker put together a committee including Deputy Chief Randy Hartley, Melinda Lindsay, Logan Bryant and Brooke Swisher.
The Fund Raiser was held on November 2011 and again in 2012 at Village Square in Clarksburg. There were over 500 people in attendance. Chief Walker has presented Pam and Dustin Hotsinpiller with over $30,000.00 for the scholarship from these fundraisers. This was due to the generous donations of individual's and area businesses.
---
Recent Donors

Ken Nunes, USMS/TOD-OEM In Memory of All DUSMS who made the Ultimate Sacrifice
Tim and Shawn Morgan to Honor the Retirement of ATF Resident Agent in Charge, Dewayne Haddix and to Honor the Retirement of WVSP Trooper J.W. Smith
In Memory of USPO Vincent Zummo:
Tim and Shawn Morgan
The Lambert Family
Steve Randolph
Weston-Buckhannon Board of Realtors
Mr. and Mrs. Hugh Hitchcock
Steve and Joyce Wickland
Simpson Creek Baptist Church

more >

Scholarship Recipients 2022

Shane Milam

Marshall University

Kendra Lyons

West Virginia University

Kayli Barton

Shepherd University

Christopher Short

Moorefield High School

Matthew Wolfe Delawder

Moorefield High School

Hunter Finn

West Virginia University

Devin Lowry

Liberty University

Angel McCauley

West Virginia University