Scholarship Recipients
2022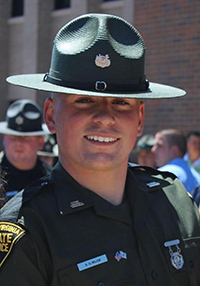 Shane Milam is a West Virginia State Trooper assigned to the Oak Hill detachment in Fayette County, WV. He has served as a Trooper for the last 8 years and handles a explosive K9 for the state police. He resides in Oak Hill, WV with his wife and 3 children and is expecting his fourth child this year. Shane is a christian and has been a 12-year member of Grace Baptist church in Fayetteville. He enjoys spending time with family, traveling, hunting, fishing and boating. He is continuing his education as a student at Marshall University where he is working toward a bachelor's degree in business. He believes that you can never stop learning as great things happen to those who push to excel in life.
---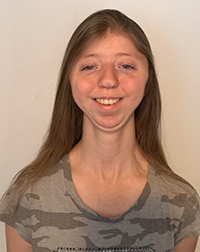 Kendra Lyons is an East Fairmont High School graduate and majors in forensics examiner at West Virginia University's Eberly College of Arts and Sciences. Kendra aspires to become a crime scene investigator and ultimately, a federal investigator, using her abilities - including her excellent observation skills - to serve justice. Kendra is the daughter of April Ford and Ralph Lyons of Fairmont. While at East Fairmont High School, Kendra gathered achievements in several academic success programs. She was a member of the National Honor Society, AP and dual credit scholar, student of the quarter for piano and art classes and she received the county level award in the young writers contest. She describes herself as enthusiastic and said her inquisitiveness fuels her to push forward in her work.
---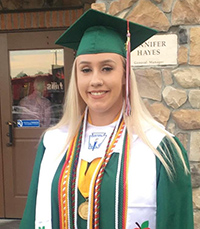 Kayli Barton is a graduate of Musselman High School and attends Shepherd University, where she studies criminal justice. She is the daughter of William and Dawn Barton of Inwood, WV. Kayli's long-term goal is to acquire a position at the FBI, dealing with cases on a national level. She is a past member of Musselman High School Student Council and took leadership classes. She participated and hosted numerous community service events, including blood, clothing and food drives. She attended Jostens Renaissance National Conference, learning about service opportunities and community projects. She played on the varsity soccer and track teams, was an All-County Cellist and member of the National Honor Society. She describes herself as focused, allowing nothing to stand in the way of her goals. Upon completion of a bachelor's degree, Kayli plans to pursue a masters and possibly a PhD.
---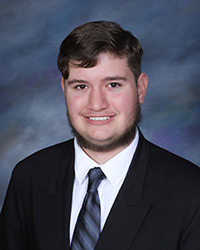 Christopher Short is a senior at Moorefield High School, where he has maintained a 4.0 grade point average and been active in National Honor Society, National Technical honor Society and DECA. He attended the South Branch Career and Technical Center in Petersburg and participated in the Law and Public Safety program, receiving his certification of completion. Short will attend Potomac State College in the fall of 2022, pursuing a bachelor's degree in criminal justice. Intrigued by the law and protecting those in his community, he intends on applying to the West Virginia State Police Academy upon college graduation. He is an employee of Walmart and a member of Believers Victory Center in Moorefield.
---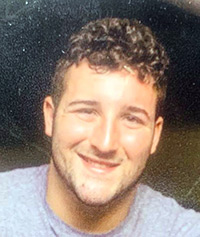 Matthew Wolfe Delawder is a senior at Moorefield High School, where he is an honor roll student and member of the varsity wrestling and football teams. He is a five-year president of 4-H and a tour guide at the "World Famous Smoke Hole Caverns." Delawder was chosen during the summer of 2021 to represent his school and state at the Envision Law and Forensics Forum in Washington, DC., working with students from across the nation to learn about the legal system and crime-solving through forensics. He will attend West Virginia University this fall to study criminology. It has been his dream to protect others and stand up or the people who cannot stand up for themselves. His long-term goals include military service and application to the FBI or another federal agency, possibly doing detective work in his home state of WV.
---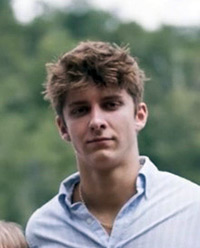 Hunter Finn is a junior at West Virginia University, pursuing a Bachelor of Arts degree in criminology with a minor in forensic & investigative science. He was inspired by his dad, a former police officer, to pursue a career in law enforcement. He said he aspires to work in a career which positively impacts the lives of people at their lowest. Growing up in a Christian boys' home in Atlanta – Eagle Ranch – he experienced firsthand how at-risk youth can head into a life of trouble unless positive reinforcement intervenes. He has acquired an empathy for young adults in trouble with the law and would be blessed to serve as a first responder, providing guiding light to turn lives around.
---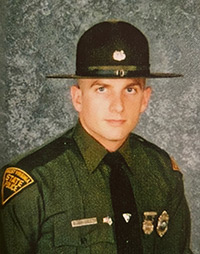 West Virginia State Trooper Devin Lowry is a husband and dad, enrolled in a Master's Program for Development Psychology at Liberty University. He is assigned to the Wheeling Detachment in Ohio County. He has served as a trooper for 10 years and has had the pleasure of working in Upshur, Wetzel, and Tyler counties.
---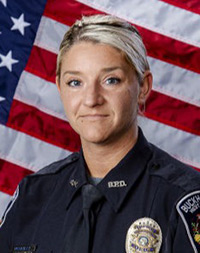 Angel McCauley has been a law enforcement officer with Buckhannon Police Department since 2018. Her focus has been investigations and community policing. She received her first promotion this year and will soon help mold and shape four new patrolmen. Angel was named runner-up for police officer of the year in 2021. She is a nationally registered EMT and is employed with the Upshur County EMS. She's a single mother to two school-age children. Angel is pursuing a degree in criminal justice/sociology from West Virginia University.
---
Recent Donors

Ken Nunes, USMS/TOD-OEM In Memory of All DUSMS who made the Ultimate Sacrifice
Tim and Shawn Morgan to Honor the Retirement of ATF Resident Agent in Charge, Dewayne Haddix and to Honor the Retirement of WVSP Trooper J.W. Smith
In Memory of USPO Vincent Zummo:
Tim and Shawn Morgan
The Lambert Family
Steve Randolph
Weston-Buckhannon Board of Realtors
Mr. and Mrs. Hugh Hitchcock
Steve and Joyce Wickland
Simpson Creek Baptist Church

more >

Scholarship Recipients 2022

Shane Milam

Marshall University

Kendra Lyons

West Virginia University

Kayli Barton

Shepherd University

Christopher Short

Moorefield High School

Matthew Wolfe Delawder

Moorefield High School

Hunter Finn

West Virginia University

Devin Lowry

Liberty University

Angel McCauley

West Virginia University